10 Clever Home Remedies for Removing Plaque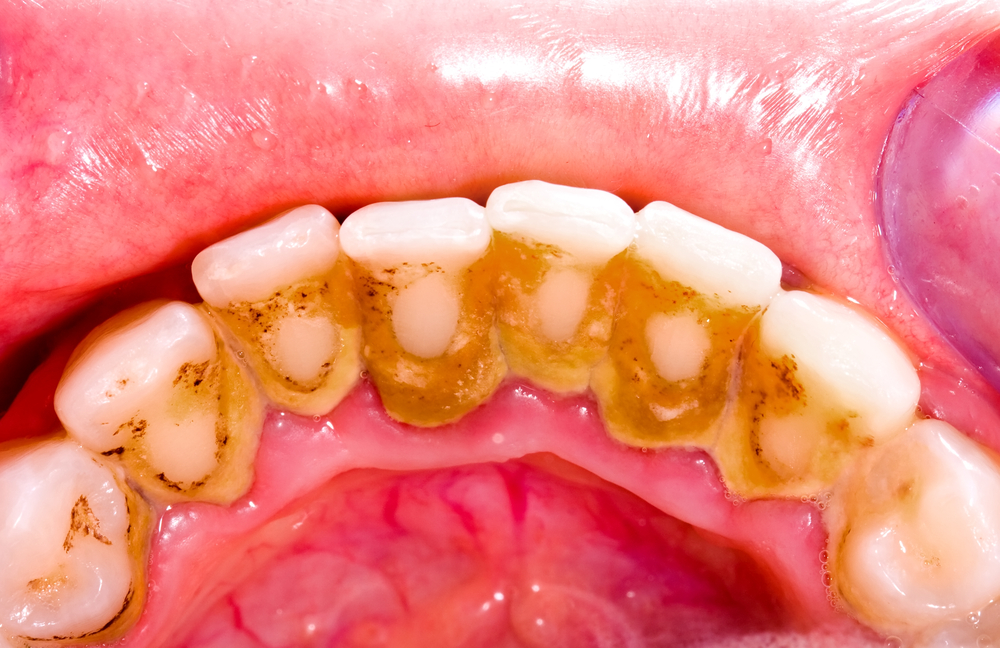 Plaque and tartar buildup on your teeth is basically inevitable. Even if you brush and floss regularly, it still happens. As stains, dirt, grime, and old food build up on your teeth, it feeds naturally occurring oral bacteria that secrete acids that cause enamel demineralization.
To protect your enamel and avoid eventually losing your teeth, you need to remove tartar and plaque. Your dentist and dental hygienist do this for you twice a year, a part of which is covered by your dental insurance, but what about the intervening months? These ten clever home remedies can help you get plaque and tartar off of your teeth at home, keeping your smile healthy and white.
What Are Plaque & Tartar?
The words "plaque" and "tartar" are often used interchangeably, but they're actually two different but related substances. Everyone knows that plaque builds up on your teeth, but what is it?
Plaque: A Vibrant Micro-Ecosystem of Oral Bacteria
Plaque is a biofilm composed of bacteria. It's literally an enormous mass of tiny bacteria. The individual organisms are microscopic, but when enough of them aggregate together, you get a slimy substance. Plaque formation is a normal, natural process. Soon after you brush, you've already started accumulating a "pellicle," a saliva layer consisting of glycoproteins. This protein layer actually protects your teeth from bacterial acids. However, the glycoproteins also allow bacteria to adhere to the pellicle, leading to plaque formation.
The first bacteria to colonize the pellicle after you've cleaned your teeth consists of gram positive, rounded aerobic bacteria, especially Streptococcus sanguinis. Within just minutes of initial attachment, the oxygen rich environment inside your mouth causes them to reproduce and grow into micro-colonies. Then, other bacteria join in, notably Streptococcus mutans, one of the main bacterial causes of dental caries. Streptococcus mutans produce an enzyme called glucosyltransferase, which converts sucrose (sugar) into exopolysaccharides. These exopolysaccharides are sticky, allowing more bacteria to adhere.
Eventually, the plaque grows enough that oxygen can no longer penetrate it. This kills off the aerobic bacteria, which need oxygen to live. At this point, anaerobic bacteria of many kinds begin to colonize the plaque. S. mutans is facultatively anaerobic, meaning that it can survive without oxygen if it needs to. The S. mutans and other anaerobic bacteria use biochemical fermentation pathways to break down sucrose, which generates lactic acid as a byproduct. This lactic acid can decrease the plaque's pH to 5.5 or lower, which is the threshold at which enamel demineralization can occur.
Tartar: Hardened Plaque
Tartar, also known as calculus, is a form of dental plaque that has hardened. This hardening occurs when your saliva and gingival crevicular fluid (GCF) deposit minerals. Tartar is composed of a combination organic components (cells and their extracellular matrices) and inorganic substances. Its inorganic component largely consists of four types of calcium phosphate crystals: octocalcium phosphate, hydroxyapatite, whitlockite, and brushite.
Tartar formation isn't all that well understood. It's most common in areas of the mouth with a lot of saliva flow, such as the maxillary molars and mandibular incisors. It can form below the gumline, causing irritation and swelling in the gums. Subgingival tartar is composed of fossilized anaerobic bacteria, whose organic structure has been replaced with calcium phosphate salts, along with more calcium phosphate salts. The reason it builds up is electrical charge. Calcium phosphate salts are unstable ions. Once a layer of fossilized bacteria has attached to the teeth below the gumline, other ionized materials are naturally attracted to it. This results in a substance similar to concrete, with small calcium phosphate salt particles filling in the gaps between the fossilized bacteria.
Tartar buildup can be prevented with regular brushing and flossing, along with regular visits to your dentist for professional cleanings. If you don't have dental insurance, many plans are available that make regular cleanings affordable. Some people get tartar more easily than others, and your risk can also increase if you have diabetes or if you smoke tobacco.
Why You Need to Remove Tartar & Plaque from Your Teeth
Removing plaque and tartar helps prevent you from developing dental caries, better known as cavities. If you remove plaque from your teeth right away through regular brushing and flossing, you can prevent the bacteria from secreting enough lactic acid to cause enamel demineralization. When you don't brush, the bacteria continue to accumulate, creating a habitat for the anaerobes and facultative anaerobes that secrete the acid.
How to Remove Plaque & Tartar at Home
Here are some of the best ways to remove plaque and tartar from your teeth at home.
Careful, sustained brushing. Wait half an hour after each meal, then brush your teeth. This removes plaque and prevents tartar from forming. If you brush as long as three minutes, using the right technique, you should be able to remove all of the plaque.
Fluoridated toothpaste. Fluoride repairs damage to your enamel, as your teeth incorporate fluorapatite into their structure in place of normal hydroxyapatite. Using fluoride regularly protects your teeth from acid damage and decay, and allows demineralized areas to regenerate.
Tartar control toothpaste. There are specialized toothpastes on the market that are specifically designed to control tartar buildup. Some of them also contain triclosan, an antibiotic that can kill off cavity-causing bacteria.
Baking soda. Baking soda is great for cleaning almost anything — including your teeth, believe it or not. It's slightly abrasive, so it helps pry tough tartar and plaque off of your enamel. You can dip your toothbrush in a mixture of baking soda with a pinch of salt.
Aloe vera gel. You can mix aloe vera gel with water, baking soda, and lemon essential oil to create a strong cleaning compound.
Orange peels. Rubbing your teeth with an orange peel can also help fight the microorganisms that cause plaque and tartar.
Eating raw vegetables. Eating raw vegetables can help clean your teeth through the process of chewing the tough fiber.
Flossing. Flossing your teeth can remove hidden plaque and tartar between them, which you can't reach with a brush.
Antiseptic mouthwash. Mouthwash can also control plaque and tartar. Listerine and other mouthwashes contain alcohol, which is bactericidal.
Use a Dental Scraper. You can get dental scraping devices at drugstores, which can scrape off plaque and tartar.
Dental Visits Are the Best Protection
Self-care is an incredibly important part of maintaining your oral health, but all the brushing and flossing in the world is no substitute for getting dental cleanings and checkups. With the right dental insurance, dental work can be incredibly affordable. At Guardian Life, we offer a range of dental insurance plans that give you access to a nationwide network of trusted providers. To find out more, visit our site to get a free quote.
Brought to you by The Guardian Life Insurance Company of America (Guardian), New York, NY. Material discussed is meant for general illustration and/or informational purposes only and it is not to be construed as tax, legal, investment or medical advice. #2016-31780 (exp. 11/18)